We perform an annual pantomime in January each year donating profits to charities and other local good causes.
We have our roots in the Home Guard who decided in 1945 to stage a pantomime in aid of local children's charities. After they were disbanded, WWPS was formed and has produced a show almost every year since 1947
We welcome new members, both on and off the stage, every year so if you would like to join in why not click here and come along to meet us!
---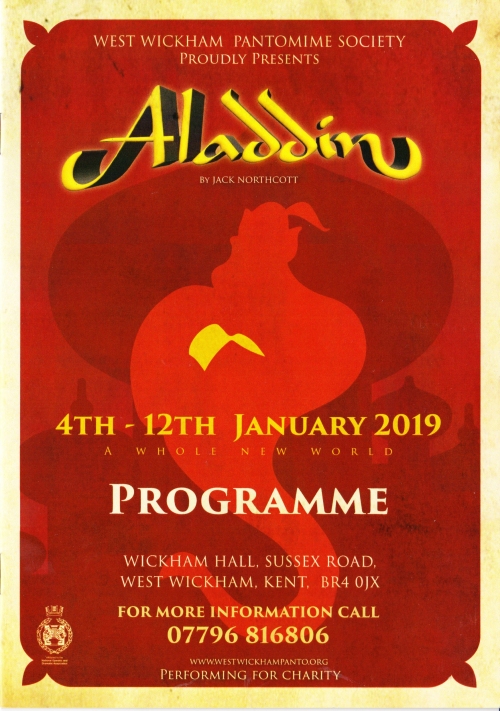 Click Above to view the Programme contents
If you would like to be reminded via e-mail each year as soon as our box office opens,
please click here
---
Noda's review of Aladdin in January 2019 is here
See the Gallery for photos and video clips from Robin Hood and our previous productions.
---
Every year we donate our profits to several charities and local good causes.
over the past year we have donated to: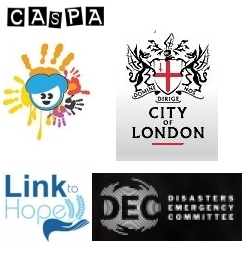 Kids and Crew
Link to Hope
Caspa Bromley
Spring Park
The Mayor's Charity Appeal
Bromley Women's Aid
Breast Cancer Now
and
West Wickham Traders Association
For further details of the above charities
and others to which we have donated in the past, please visit this page of our website
Are you interested in raising money for your charity?
Please contact us at charity@westwickhampanto.org
for details of our charity nights.
---
We Won!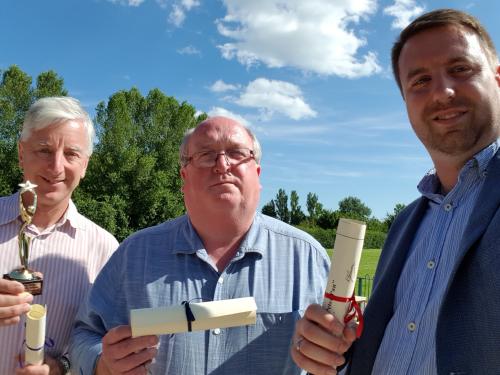 Left to right - Mike Simpson, Peter Pan Director; Tony Dunne, Chairman
and James Simpson, Peter Pan Director at the NODA award presentations in July 2017
We have won three awards from the National Operatic and Dramatic Association
for 'Peter Pan' which we performed in January 2016
NODA SE Region
District Accolades of Excellence 2016 - Best Pantomime
Councillors Award for Pantomime - Best Pantomime
South East Region Poster & Programme Competition 2016 - Best Basic Programme - Runner up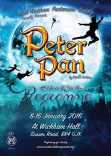 ---
West Wickham Pantomime Society
Wickham Hall
Sussex Road
West Wickham, Kent, BR4 0JX
Map
Copyright © 2010 - West Wickham Pantomime Society
Website design and management by TurnipNet